Water-Oil Heat Exchangers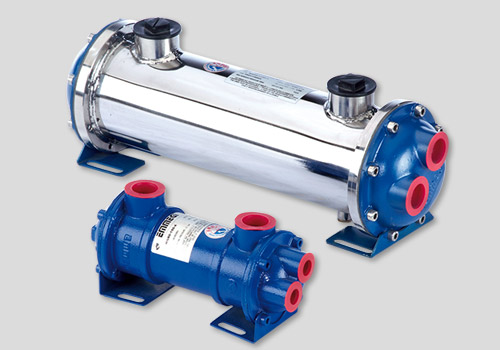 MG Standard Series, Sea Water Duty, Stainless Steel
The Water-Oil heat exchangers of the MG series are majorly used to cool down hydraulic oil or other fluids. By using either a 1, 2 or 4 bypass water system and optional thermostatic valves MG coolers help to decrease the water consumption by a large number.
EMMEGI offers a wide product range with various types and sizes to meet every customer's needs and increase the efficiency.
First-grade materials as well as high precision machines guarantee most reliable products.

---
Serie MG
straight-tube heat exchanger

MG / MGC / MGE / MGB / MGF / MGWMG / MGC / MGE / MGB / MGF / MGW
Serie PB
brazed plated heat exchanger (AISI)

customized sizes for brazed blated heat exchangers on demand bigger plate heat exchangers as screwed version according custumer requirements
Technical Data / Specifications
Material
Copper, Brass, AISi304, CuNi10, tempered steel
(sea water resistant alloys optional)
Operating pressure
12 bar
Oil flow
5 – 800 Liter / min
Cooling power
bis 250 kW
Types
1,2 und 4 pass
---
Fields of applications
Generators, machine tools, marine, food production, industrial machines, hydraulic systems